A Fantastic Resource for Using Pinterest in your Chiropractic Clinic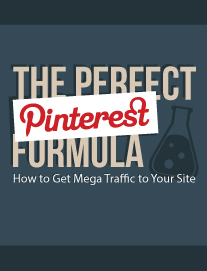 I found a fantastic resource for anyone dabbling in Pinterest marketing, who whishes they had a some kind of repeatable formula that will work, instead of just pinning images and crossing fingers.
Andy Eliason, at seo.com, posted an article regarding Pinterest.  He noted that Pinterest has become a very important part of social media marketing. It is the top converting social media site, it has more than 2.5 billion page views a month, and it can be extremely effective in building a community. In a comparatively short time, it has become the kind of tool that businesses and marketers love.
Seo.com partnered with Dilly Marketing to bring you their successful formula for creating and promoting the perfect pin, and they put it together in a pdf you can download from their site here.
If you go to Dilly Marketing's home page you'll see their home page headlines are all Pinterest related, including "How to gain more Pinterest followers in 24 hours", and "How to make an image that will get pinned thousands of times and drive thousands of visitors to your site."
The book is in 2 parts.  The first part shows you how to make pins that get noticed.  The second part shows you how to start a Pinterest snowball.  They point out that
"A pin is just a picture on a social platform until someone else notices it and passes it on. The real magic happens when hundreds or even thousands of people start noticing your pins – or someone else's repins – and decides to spread the message for you…

We show you how, when, where, and what to pin in order to get the most benefit from your Pinterest marketing campaign."
The post points out that like all good things, it's going to take a little work to start that snowball rolling.  The good news is that once you get it moving down that hill, it can start to pick up some unbelievable momentum.
So if you are interested in the pin, I'd go to their post and download the ebook.  You'll have to put in your email to get it, but go ahead and do it.  You shouldn't ever be afraid to put in your email address when you're on a reputable site.  Sites like this will eventually send you some kind of marketing letter in the future, but so what?  It will take you 2 seconds to hit the unsubscribe button at the bottom, and it's well worth it if they have free information that you want.
You can read the article here.
6 awesome software programs handle ALL of our online marketing.
Hint: They will also work for your Chiropractic Clinic
(and 5 of them are completely FREE).