Master Your Email Marketing Like Tabor Smith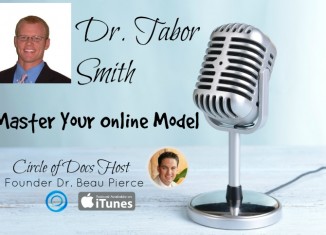 About a week ago Dr. Tabor Smith was interviewed by Dr. Pierce on the Circle of Docs podcast. The title of the podcast was "Master Your Online Model," and I hope you listened to it. If not, I really encourage you to take a few moments to check it out here. It's not technical. It's a really great discussion about digital marketing in layman's terms.
I'm going to summarize a small part of it, and then offer an alternative to doing it yourself. So if your eyes start to roll back in your head after the first 2 paragraphs, make sure to keep going, otherwise you'll miss the best part. (screenshots below)
One of the things he covered was the way his email lists were done. He uses email marketing software (just like the MailChimp account that was set up for you when you first started your ChiroLoop site) to follow-up with patients every single week, and it's automated. He stated quite clearly that it has resulted in booked appointments for new patients, and increased patient retention.
He described how he uses multiple opt-in forms with different "bait," and segments his list in order to send more relevant information. For example, he uses opt-ins for headache, sciatica, back pain, etc., so when someone fills in the form to get the ebook or report, they're automatically segmented to that part of the list. That way, a person with sciatica gets sciatica email, (all automated by the way) and the person with headaches gets headache related email.
He also adds new patients to different lists so that they received follow-up patient education email on a regular basis.
When I listened to this I thought "Exactly! I've been encouraging ChiroLoop clients to create these things for years, and they know that if they write the report, we'll handle the technical part."
But I also realize that busy chiropractors might not have time for this, or at least think they don't have time for this. So I'm doing 2 things here.
I'm going to give you one right here (for sciatica), and if people want it, and use it, I'll make more. I'll even segment your list for you from within your MailChimp account.
I'm going to walk you through how I did it (it's so easy you won't believe it) in case you or your office manager/CA /intern want to make your own.
So fist I'll show you the completed project that we can install for you. Then I'll show you how you can do it in less than 30 minutes.
The first step was creating the actual article.
Here is a screenshot of the initial Sciatica article.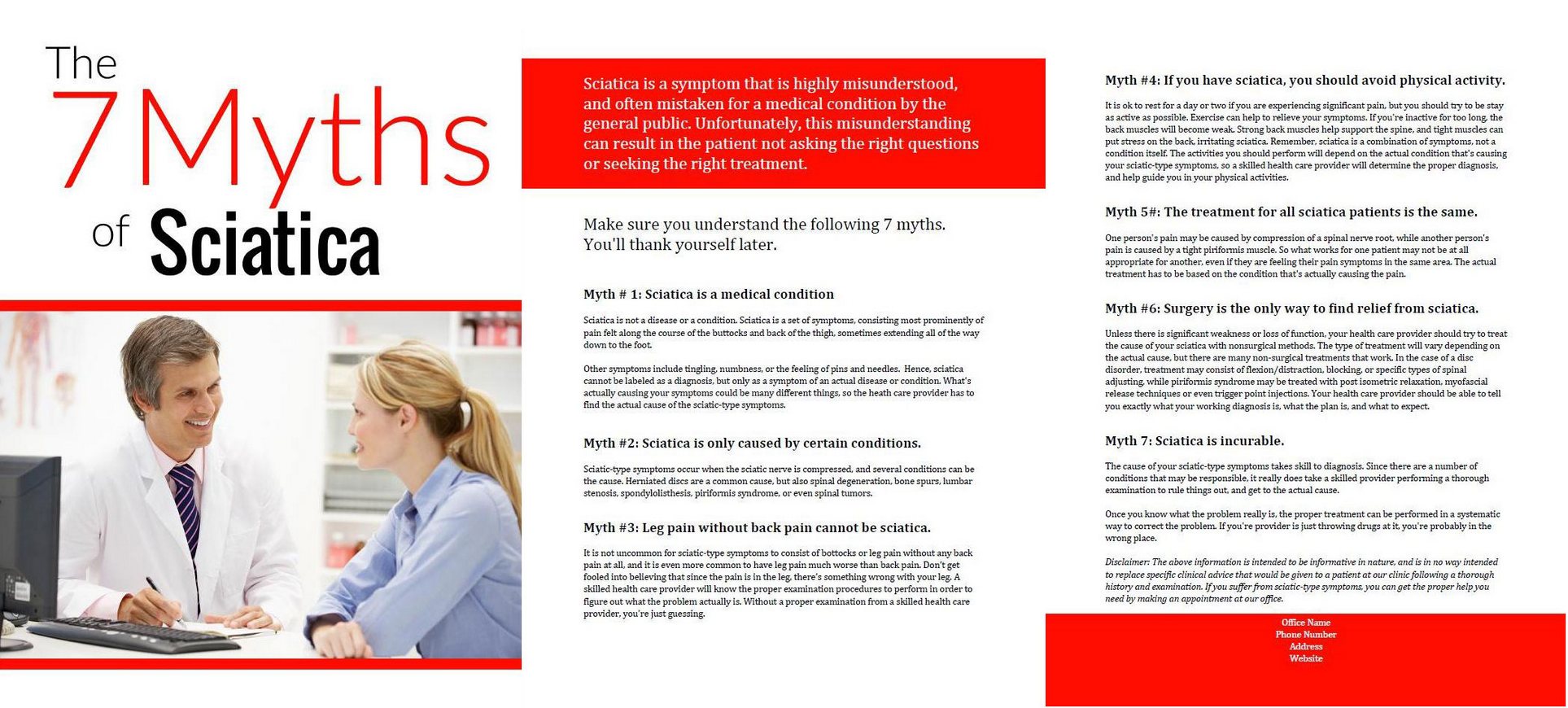 It took about 30 minutes to make the report, and I'll show you the process that makes it quick in a bit.
The next step was to build a WordPress plugin that, when activated, would add a widget to the widget page called "ChiroLoop Sciatica Widget." The widget contains the HTML for the sciatica sidebar. Keep in mind that it is really easy for us to change the wording in the sidebar, so customizing your message is not an issue.
Here is what the sidebar looks like on the front-end of the site.
(and of course this is completely customizable per your request)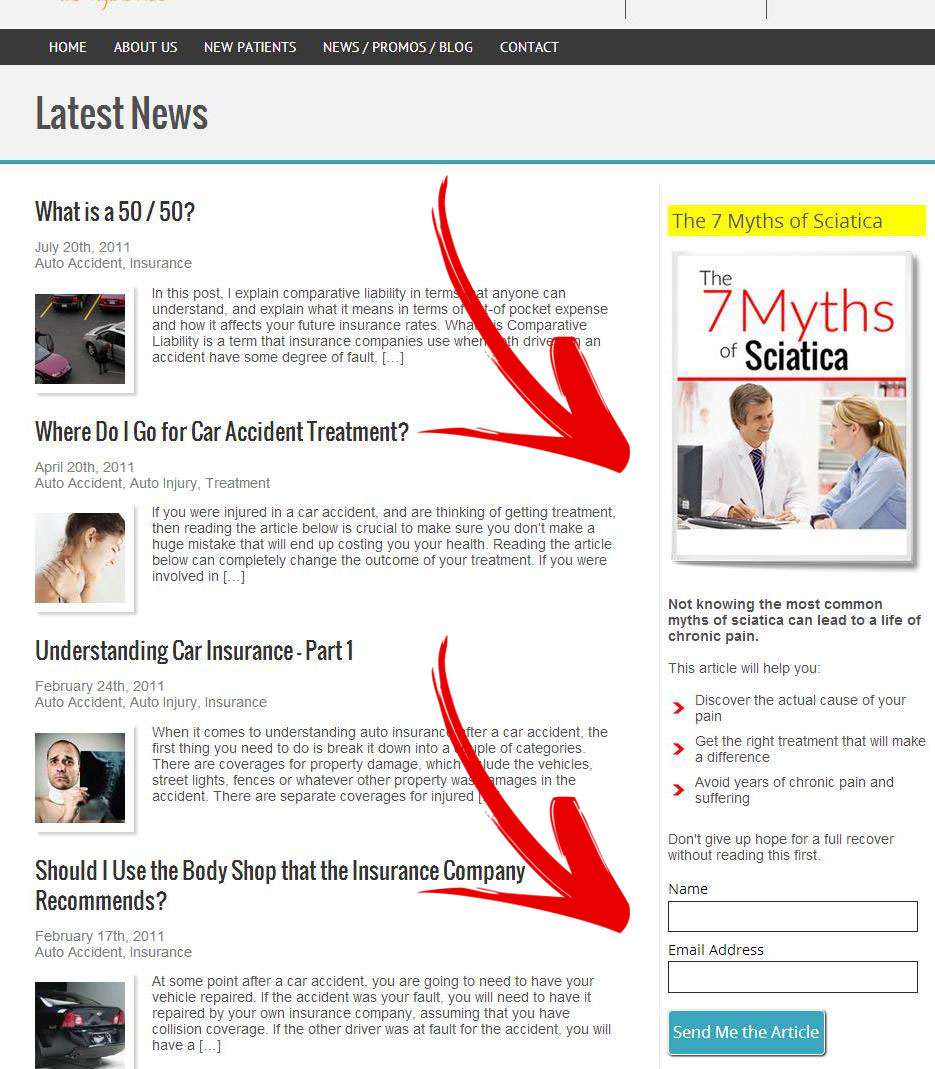 In order to activate it, all you need to do is drag the Sciatica widget into a sidebar like this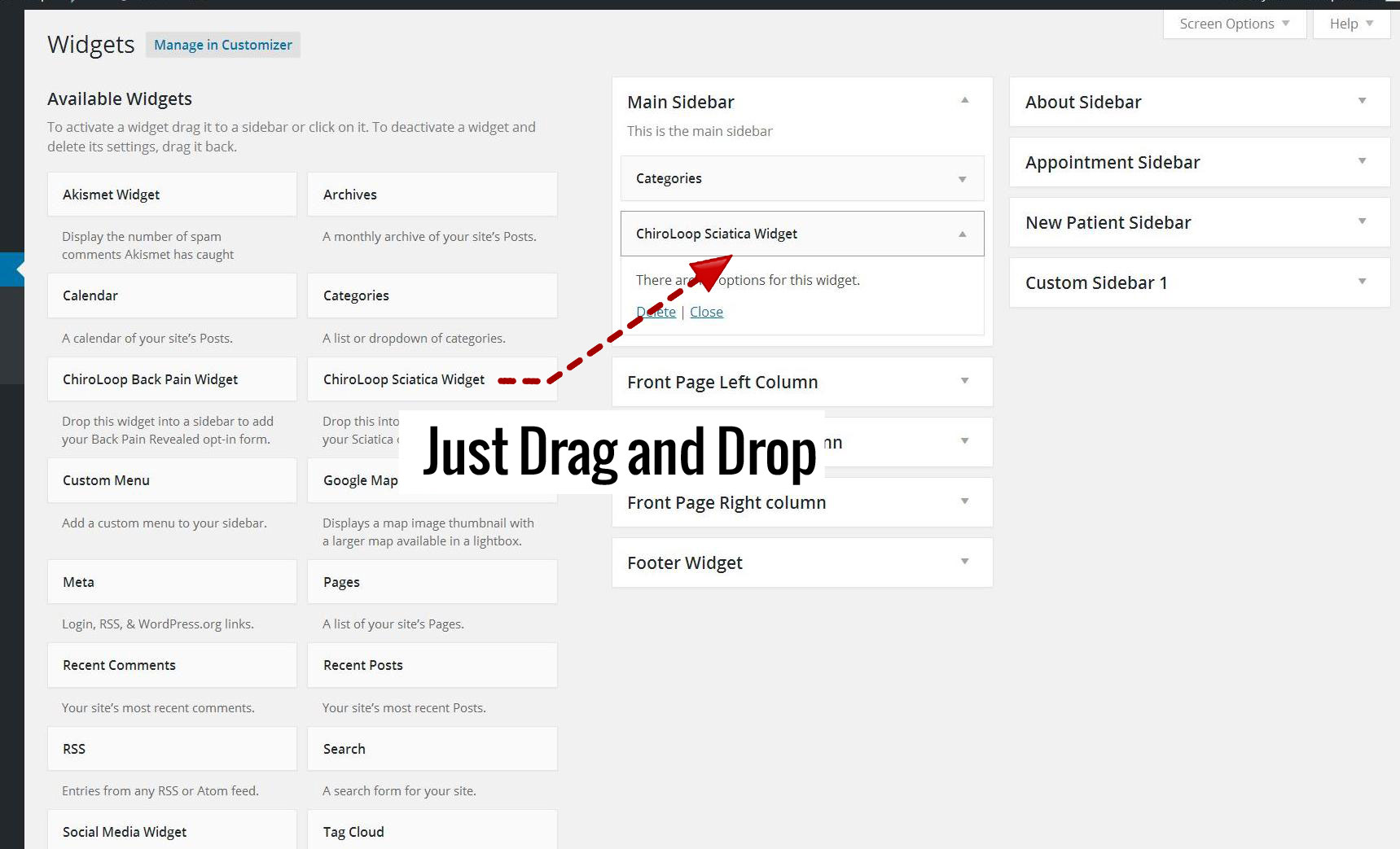 Or if you want it all by itself, you can just assign any page to the Sciatica Template.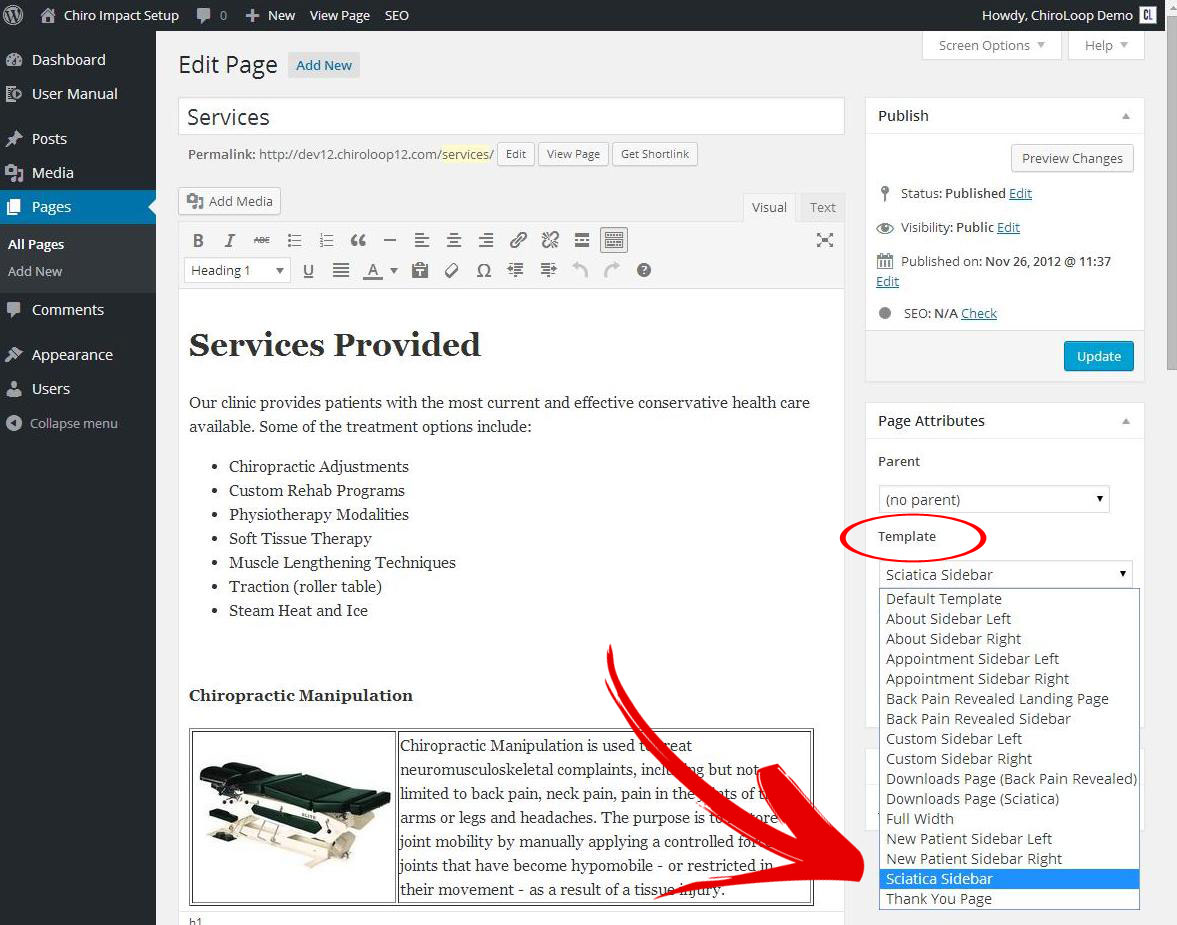 Both the widget and the template are automatically hooked up to the proper segment of your list, because we can just drop your MailChimp code right into the HTML. You never have to worry about it going to the wrong segment, and you never have to worry about messing it up. Once it's set up, it's just drag and drop.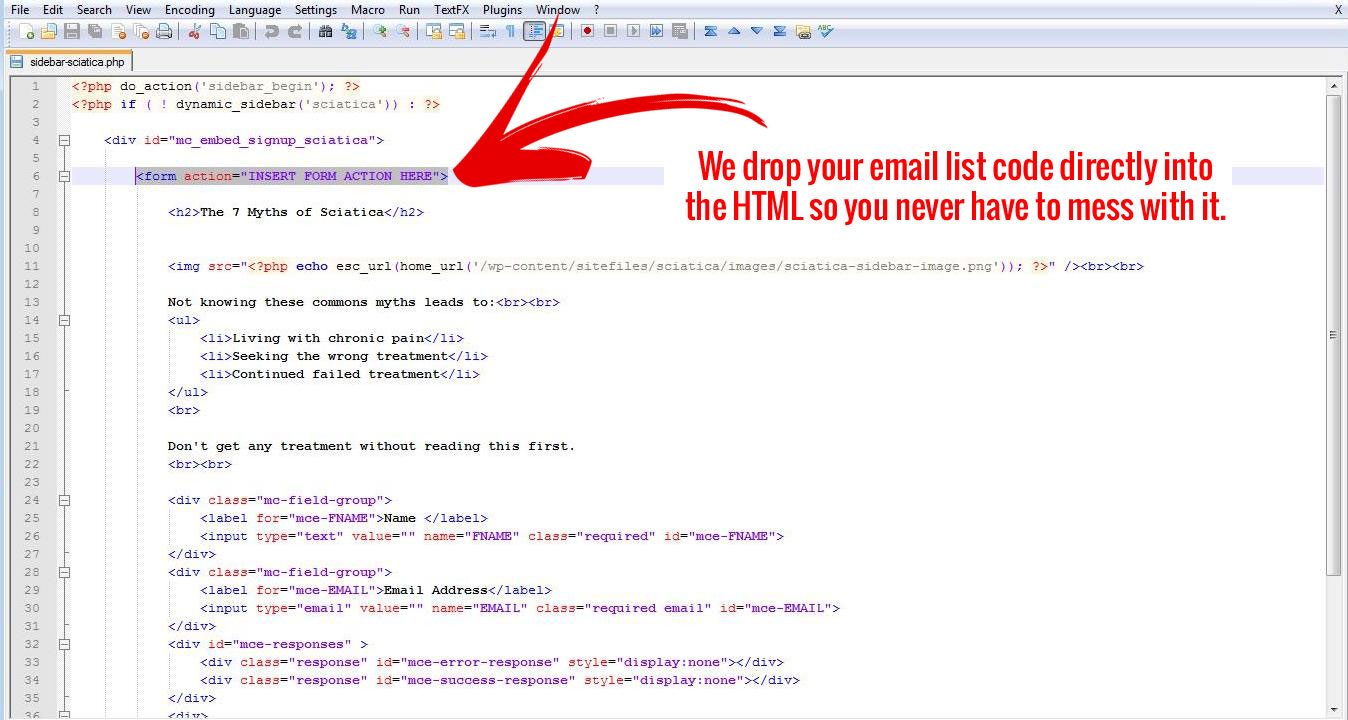 We also set up a downloads template specifically for that download.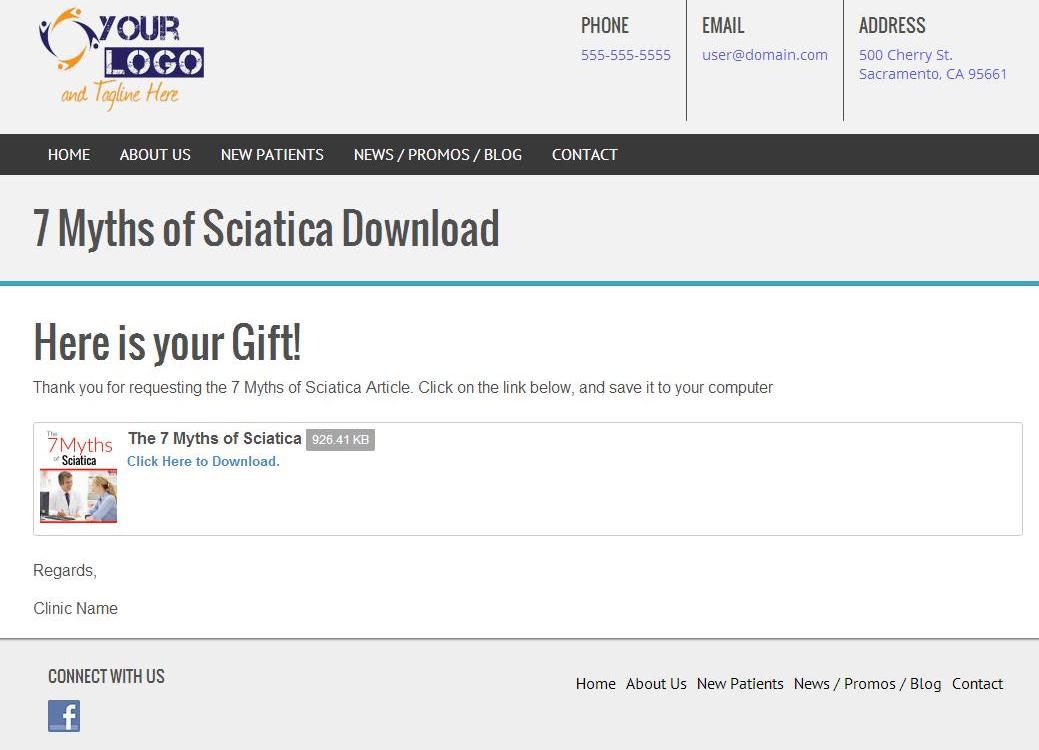 The great thing is that I can send you the Word doc. You can edit the text however you see fit, and send it back with your edits.
Now when someone enters their email to get the article, they'll automatically be added to your email list, and they'll automatically be segmented as someone with an interest in sciatica. You'll have the option of following up with them with tailored email, and of course saving those emails so you can automate them for future sign-ups.
Now I'm going to show you how I did it.
You don't have to set up the tech stuff, or even design a cover. You can just send it as a Word doc and we'll do the rest. I'm just going to show you how to come up with the Word doc in about 30 minutes or less.
The first thing I did was decide what segment I wanted to target. I did this by going to a client's site, and looking at the way it was set up. Along the main navigation there was an option for "Conditions We Treat," and in the drop down menu an option was "Sciatica." This would be the perfect page to have a sciatica opt-in.
The next thing I did was pull up a headline swipe file. You can find these all over the place. I wrote a previous post on that here.
The reason I used a swipe file is because they work. Have you ever grabbed a handful of Men's Health magazines or Cosmo just to compare the headlines on the cover? They're all the same from issue to issue. If you're going to use a headline, don't reinvent the wheel. The format I swiped was "The [blank] Myths about [blank]."
Once I had the headline "The [blank] Myths of Sciatica" I just Googled "Myths about sciatica." I found 3 separate articles, and picked and chose the myths I wanted to use. Then I changed the copy to make it more accurate, and put in subtle suggestions that the only way to really fix it was to call the office and make an appointment.
That's it. 30 minutes tops.
If you make one of these documents, you can just send us the Word document. We can turn it into a WordPress widget, as well as a template. You'll be able to add or delete it from any sidebar, and assign any page on your site to a template that will put that new opt-in in the sidebar without dealing with any code.
Regarding the quality and length of the articles, you'll want them to be helpful, but they really don't need to be like the 19-page Back Pain Revealed opt-in that came with your ChiroLoop site. As long as you give them what you say you're going to give them, in this case 7 myths, you're good. But you need to make sure you fulfill your promise. Don't call something an "ebook" and then deliver a two page article.
Later, if you choose, you can send a mix of gain/logic/fear type emails and helpful content to this segment of the list. On top of that, the feedback can give you some ideas of what you should write about. If people start signing up for your headache opt-in, then you might want to write a couple of high-quality articles about chiropractic treatment for headache. You can add it to your blog, as well as copy it to an email, and send it directly to your headache list. Make sense?
There is no limit to the amount of opt-ins you can have on your site. If you want an opt-in for headache, arthritis, sciatica, back pain, neck pain, or even tennis elbow, let us know. Feel free to write something unique, or let us take a stab at it. We'll turn your opt-ins into widgets and templates that you can drag and drop all over your site without having to worry about any HTML or other code.
If you're wondering if this is worth your time, I would definitely listen to the podcast, as well as check out Tabor Smith's website.
And please feel free to ask any question about this. You can leave a comment below, use the contact page, or contact me directly via email.
6 awesome software programs handle ALL of our online marketing.
Hint: They will also work for your Chiropractic Clinic
(and 5 of them are completely FREE).